Watch out full video here: OUR WEDDING Story | Get ready with us | Peonies English Wedding | Romania | Pop Mihai si Cristina The Story and the planning of our wedding
---
We've got married on the 11th of June in our hometown, a small city situated in the heart of Transylvania. I wanted a multi-cultural wedding theme and it turned : a traditional Romanian menu with an English-inspired theme (especially for the Civil Ceremony).
We've been so impressed by the english royal garden party looks from Royal Ascot Racehorses and we wanted to bring that Kate Middleton style in Romania.
MY FIRST LOOK AS A BRIDE:
The main theme – English Royal Weddings with a Romanian Twist
Main inspiration: Kate Middleton. I think nothing is more representative to the English royal ladies than all those statement hats and handcrafted headpieces which are always taking the center stage when an important event is happening
That's what I wanted for our wedding, on the first part of the day. Something really nice and spectacular! Something cool… to be remembered!
So, my first look was quite unusual but I loved it so much! First of all, I've got a white wedding headpiece. Good! Instead of the traditional wedding dress I've got this original idea: an all-in-one bridal jumpsuit (to be more precise an all-white combo between a jumpsuit and a veil-skirt for a cool personal touch). I was so excited! Really happy with my final look!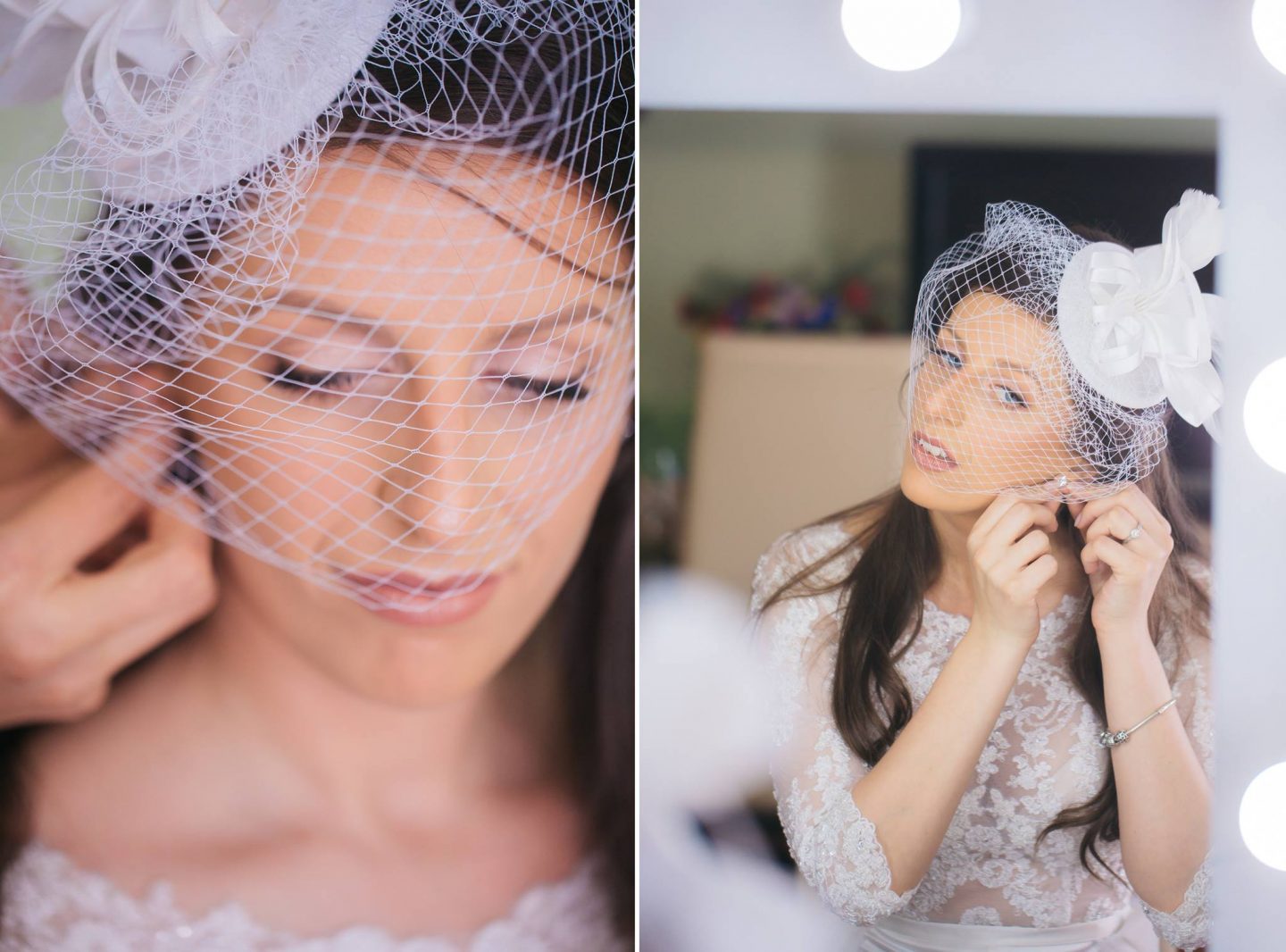 The final touch: beautiful peonies bouquet in white and pale pink shades. Do I have to mention that peonies are my all time favorite flowers? They are so pretty and their smell is divine!
Even now I use a perfume with a similar smell – a fresh scent of peony, and when I close my eyes that perfect day comes back in my mind. These peonies will create an alluring feminine aroma that will establish your unique presence wherever you go!
If you want some similar jumpsuit-dresses (online options), here are some of my choices:
Get inspired and shop!
HIS FIRST LOOK:
My groom's outfit was special as well! A morning wedding look with a black tailcoat, a classic black waistcoat and some skinny blue checked trousers.
OUR WEDDING CAR
A remarkable English element was the traditional black cab from London. We were happy to bring such an iconic car for our wedding! It was much appreciated not only by the guests but by locals as well!
MY BRIDESMAIDS & HIS SQUAD
The theme was perfectly completed by our friends! I have to thank them once again because they have respected the dress code and everything was matching so beautifully!
My bridesmaids were meant to wear English-inspired hats and their own choice of dresses in shades of pink and silver. The groomsmen were in all black two-piece suits with white shirts and the most important detail: similar silver bowties!
THE CIVIL CEREMONY
The Ceremony at the City Hall was so emotional!
THE RELIGIOUS CEREMONY
My emotions were already at the next level when I stepped into the church! I plastered a smile on my face and I said YES! I truly think Mihai is the man I was meant to marry. We are officially a team, the POP family!
YES, this is my real new name now! We are supporting, encouraging, and loving each other unconditionally. I said YES to an everlasting love! I can't believe how lucky we both are to have found an absolute best friend in each other!
AFTERNOON WEDDING LOOKS
For the afternoon we wanted something really easy to wear because we were planning to celebrate a lot! So, at the party, I've got a classic option – a proper delicate wedding dress. It was a romantic choice with some Swarovski crystals and silver details on a see-through sleeveless top. Also, for the church, I've got a proper long veil that looked amazing while walking down the aisle with my father! My Wedding dresses were both made by Romana G. Urmanczy Delicate https://goo.gl/APGVse (she is a very talented Romanian designer and she makes customized dressed only). HIS look: an all-time elegant wedding suit – a slim fit tuxedo with a black tie. The surprise element of this look: he took one Swarovski crystal from my dress and attached it to his tie. And here we were, perfeclty matching these looks again!
I wore the same make-up all day long – something really natural and easy to wear. My make-up artist for the wedding was a local one, a really talented girl called Silvia Gordan (you can find her here: https://goo.gl/5AyAQo).
---
After the Religious Ceremony, we went straight to the venue where we've got our small Garden Party outside – a champagne reception, with canapes on trays and jazz music.
Here we've been welcoming our guests and after catching up a bit with everyone and after this we've got such a great party all together!
THE THEME:
The wedding theme was easily noticeable everywhere in the venue:
1. At the entrance – two guards from the Queen's Guard – actually, they were dealing with the guestlists!
2. What is more London-ish than London Eye? We've got our own made from a bike's wheel and we've seated everybody there… on our table plans
3. afternoon teapots, cups and some ice cream cones, all of them decorated with peonies
When we've hired the venue we knew that everything will look a bit royal. It was so dreamy and elegant!
To sum up, this was meant to be a unique wedding design, English-inspired, with few royal elements and peonies all over. As the main colors, we've made our choice on Dusty Pink and Silver for everything: from invites to outfits and all the decoration pieces. Everything started with my favorite flowers ever – peonies. We've been using them for everywhere!
Our local florist: Floraria AnaFlor https://goo.gl/XY4a4R
THE MUSIC:
Our music consisetd in a mixture of live music (cover band + great saxophonist). It was a truly memorable atmosphere!

OUR WEDDING MENU:
The Menu was a 7 courses meal. I know it's a lot of food but this is our Romanian tradition, we eat a lot!
canapes
appetizers platters at arrival
salmon in Dutch sauce with rice and vegetables on side
two soup choices
main course: roasted pork with rolled bacon chicken breast duet, vegetable mushroom sauce, gratinated potatoes & baby carrots
cake
after the midnight we've served some traditional dish called sarmale – Romanian traditional cabbage rolls that everybody loves
OUR VENUE:
Brilliant Parc Zalau https://goo.gl/gH2WQM
Local Photo & Video Team: Amazing Visuals https://goo.gl/5yca6k
I totally loved everything!
I've been planning some events&weddings in my life before our wedding happened but this one is the best I've made so far!
I'm happy to say that I've been a bride and my own event planner at the same time!