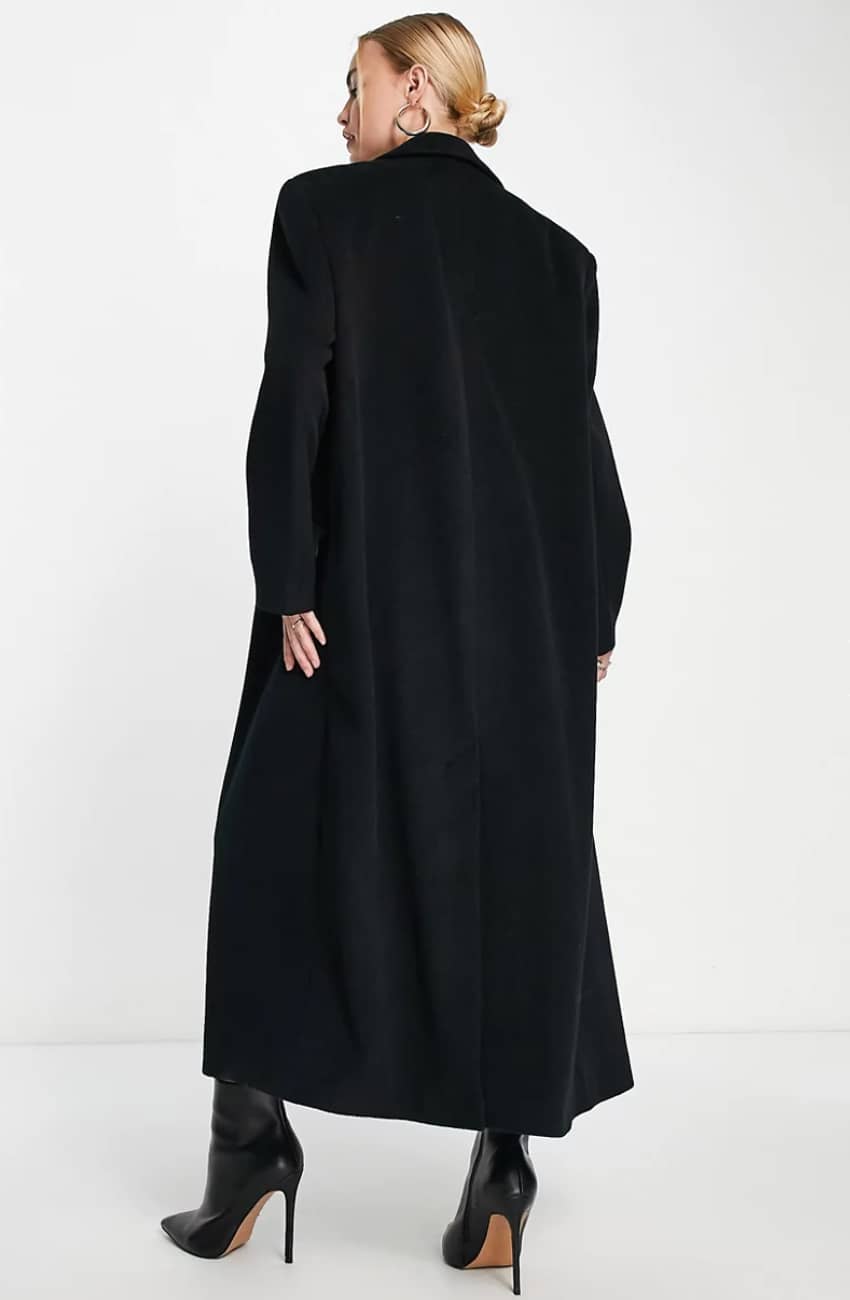 Even if we are already starting to think about spring already, winter is pretty much here. We have no choice but to dress up and I'm obsessed with big coats these days. If you are thinking about keeping it warm and stylish at the same time, a big oversized coat would be the best answer to your day to day looks.
More than that, a great solution for both end of winter and beginning or spring would be a cool Dad Coat. This type of coat has been growing in popularity in recent years and has become a winter essential for me. I think it looks really cool and it can elevate any outfit in minutes. The overall vibe of such an outfit would be really clean and trendy. You gotta love a scandi inspired look with a cool big dad coat.
Here are some coats options you might wanna consider or save for later.
Shop this season's must haves
To be honest, I'm not entirely sure why Abercrombie calls this the Dad Coat but I'm sure many parents have a coat in this shape.
ASOS Design Dad Coat
This cool coat was the star of the season, really works with everything and it's so easy to style. You can dress up adn dress down the coat really fast – it's a true stable this season.
Abercrombie Dad Coat Women's Slouchy Belted Wool-Blend Coat
The slouchy belted wool-blend dad coat by Abercrombie is pretty mush sold out everywhere but the brand still has some cool alternatives. Let's not forget that it's still the sales period – so if you find one of the coats available it's a real steal!
Other Abercrombie Dad Coats I really like
The brand is killing it this season and the have so many nice options available when it comes to dad coats. Here are some more finds I'm sure you will like:
What is a Dad Coat?
A Dad Coat is a classic, utilitarian style of coat that is typically made from heavy materials such as wool or fleece. These coats are designed to keep you warm and dry in the coldest of temperatures while also being practical and functional. And, of course, really cool! Dad Coats are often oversized, making them perfect for layering over thick sweaters or jackets.
So, the term "dad coat" refers to the casual and comfortable style of the coat, which is reminiscent of the type of coat a dad or father would wear. Dad coats typically feature a boxy and spacious design, making them ideal for layering over thicker clothing or carrying essentials. I am not sure if my dad wore this type of coat but I am definitely into the trend at the moment.
The dad coats are often made from warm materials like wool or fleece, and come in a variety of colors and patterns. The popularity of dad coats has grown in recent years due to their versatility and practicality, making them a staple in many wardrobes for both men and women.
Whether it's for a casual weekend outing or for keeping warm during a cold winter day, a dad coat is the perfect choice for those looking for a stylish and practical outerwear option. I would choose a dad coat anytime fI want to have a cool and practical look.
Why is a Dad Coat a Must-Have?
There are several reasons why a Dad Coat is a must-have for any winter wardrobe.
Firstly, they are incredibly warm and comfortable, making them perfect for cold winter days. The heavy materials used in their construction make them ideal for braving the elements and the oversized design provides ample room for layering.
Another great benefit of Dad Coats is their versatility. They can be dressed up or down, making them a perfect choice for a variety of occasions. They can be worn to work, to dinner, or even to the park for a walk. This versatility means that you can wear your Dad Coat all winter long, making it a great investment.
How to Choose a Good Dad Coat?
Most of all, I am totally into foot length measure when it comes to coats. Even if I'm wearing size small to most of my clothes, when it comes to coats, I am happy to purchase a bigger size just to get that oversized look. I am usually paying attention to the sleeve length when choosing a bigger size.
How to Style a Dad Coat
When it comes to styling a Dad Coat, the options are endless. The oversized design allows for plenty of room to layer, making it easy to create a stylish and functional winter look. A sweater and jeans, for example, can be paired with a Dad Coat for a classic, casual look.
For a more dressed up look, try pairing your Dad Coat with a button-up shirt and dress pants. This will elevate your outfit and make you look polished and put-together. You can also pair your Dad Coat with a scarf and gloves to complete the look and add an extra layer of warmth.
Conclusion
In conclusion, a Dad Coat is a must-have for any winter wardrobe. It's warm, versatile, and practical, making it the perfect choice for cold winter days. Whether you're dressing up or down, a Dad Coat is the perfect addition to your winter wardrobe. So don't wait, invest in a Dad Coat today and enjoy the comfort and style that it provides all winter long.