Top Women's Sliders slippers: You've never been really attentive with your staying in attire, isn't it? Fashion has taken a collective step towards the comfy. It's all about comfy Slider Slippers, comfy clothing, and comfy PJs. As you know, we are all staying in because of the quarantine and all the fashion retailers are pushing on their first pages, now more than ever, the lounge fashion.
QUICK SHOP ALL THE Women's Slider Slippers here:
Slider Slippers, but make it cute!
In a way or another, we all wanna be fashionable and still in trend. That's why I totally get you if you are spending your time looking at the most Instagramable slippers. Been there, done that!
Therefore, here I will share with you all my favorite Slider Slippers finds. More than that, I will also post another article about my favorite loungewear finds, so stay close!
1. UGG Scuffette II Women's Chestnut Brown Sheepskin Slider Slippers
Firstly, The updated Scuffette is contrasted with a chestnut suede upper which is embossed with UGG's signature logo and a luxurious white sheepskin lining. For sure, these Slider Slippers have the added benefit of enabling your feet to be at body temperature in hot or cold climates for all year round usage.
2. Mayberry Australian Slider Slippers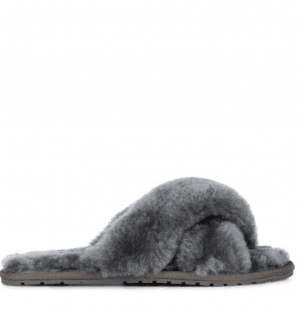 Secondly, the Slider Slippers are a fashion staple, and the Mayberry slide-style slipper is durable enough to be worn inside and outside. These Slider Slippers are with 100% real Australian sheepskin. Therefore, it adds a touch of luxury to the everyday home look. It comes in a huge range of colors, from timeless classics such as black, white, grey and tan, to color-pop brights like pink, red, blue, and mustard.
3. UGG Fuzz Yeah Slider Slippers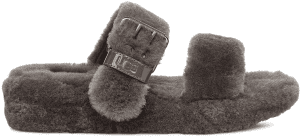 The brand behind Australia's original sheepskin boots, UGG combines luxurious comfort with durability and style. These days, UGG boots are adopted for their natural coziness and laid-back appeal. Also, I love the Slider Slippers version by UGG!
4. Twist-Strap Sheepskin Slider Slippers
Another favourite, the plush sheepskin slider slippers from The White Company are the ultimate luxurious treat for feet. We are talking about the flattering twist-strap design you won't stop wearing around the house. Moreover, they come in a sophisticated dark grey, which looks lovely styled with luxe silk PJs and nightshirts. Definitely it's a great addition to any lounge outfit.
5. RAID Wide Fit Hayley espadrille slides in white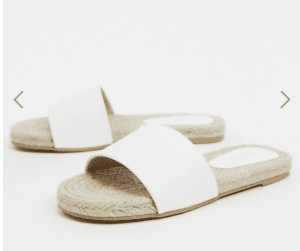 Footwear brand Raid loves shoes so much that its collection covers every style you could think of — and for that, we're eternally grateful. Expect classic Chelsea boots, slick loafers, and flat mules to build your everyday look. High-heeled sandals and embellished designs more your thing? There are plenty of those, too.
6. UGG Scuff Sis Slippers Charcoal
Fluffy slippers? Send them our way! Scuff Sis Slippers by UGG The Scuff Sis slippers are the same as the iconic Scuffette but with a statement fluff collar. This is a popular silhouette and features a cork infused rubber outsole providing durability. For sure, these slippers will keep you comfortable around the house for lazy days. Your feet will thank me later.
7. The White Company London Sparkle Mule White Slippers
The White Company London Sparkle Mule White Slippers – new mule slippers are a great option for cold mornings and evenings. Super-soft on little feet, this wonderful white pair have added silver sparkle all-over that we know little ones will love. Finished with a soft faux-fur lining, these are perfect paired with our cosy pyjamas and robes.
8. Ted Baker Ayzah Branded Sliders
Slide into the new season with Ted's effortlessly stylish Ayzah sliders. These are colour-blocked sliders rep Ted Baker branding on the panel and comfortable soles, making them the ideal shoe. They are great for loungewear, for running errands or simply for streetwear in the warm season.
9. M&S COLLECTION Suede Mule Slippers
These are the perfect mules for cozy days. Great choice for any time and they responsibly sourced leather. It's an easy-to-wear wardrobe staple that combines the classic and the contemporary style in one item.
10. TOMMY JEANS SIGNATURE LOGO TEDDY SLIDERS IN BEIGE
With a youthful vibe and 90s spirit, Tommy Jeans Capsule teams denim essentials with innovative washes and unexpected details. Complete the look with cropped tops, sweats and accessories, all finished with the iconic Tommy Hilfiger logo.
QUICK SHOP ALL THE Women's Slider Slippers here: